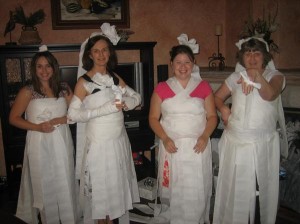 Every little girl dreams about her wedding day.  What time of year it will be in, what her color-scheme will be, and of course, the dress!
Give your girlfriends a chance to make their dreams come true…with the Toilet Paper Bride game at the bridal shower.  Divide the guests into even groups of 3-6.  Pass out a few rolls of TP to each group.  The group then decides which lucky girl will get to dawn the dress and the others turn into instant seamstresses and start to create the masterpiece.  They can tuck, tie, and pinch the toilet paper into place creating their dream wedding gown.  Some creative gals will even go all out and make veils, garters, and wedding rings as well.  
Once you call time (give them about 7 minutes or so) allow your real bride to be walk around from group to group and pick the dress she likes most.  
This game is a great way to get your guests moving around and socializing…and hey…who doesn't want to be turned into a bride for a day?  Have fun!

Great website, very readable clean content. You may want to try adding more pictures, but either way nice site.
Leave a Reply