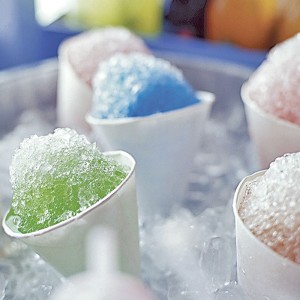 Summer weddings are among some of the most popular. Many brides choose the summer season for their big-day because there is usually a better chance of a rain-free event, gorgeous sunsets, and an overall cheery feeling that only comes from the summer-time. One of the only down-falls that comes from the season is the heat…and as many of us know down in the South, the heat can be truly unbearable.
So here is an idea for all of you summer-wedding-planners. Skip the traditional wedding cake, and serve your guests a cool treat instead…wedding cake snow cones are all the rage…well, in Daisy's book anyway. They taste just like a wedding cake, but are sure to cool down even the hottest of groomsmen. And for those of you brides on a budget, this is actually a cheaper alternative to a big ol' fancy wedding cake.
Love the Idea? Well, lets talk about how to make it snow! There are a couple of different options sure to fit into any brides budget. Snow cone machines can easily be rented (from your local party-supply company) or purchased (check sites like www.craigslist.com and try to find a used machine). The next thing you need is the syrup. If you want to keep as close to traditional as possible, Daisy recommends the "wedding cake" flavor. It can be purchased in a flavor-concentrate (a much more economical way to serve a high number of guests) or many companies offer ready-to-use syrups. Next, you will need something to serve your delicious frozen treats in. Using small clear plastic cups from a bulk-store would be the cheapest way to go about this…but there are a million other options as well. Ordering custom cups with the couples name on them would give your wedding a very personal feel. Another idea is to use cute plastic martini glasses that coordinate with your wedding colors. Get creative with this girls…your guests will be excited about their cool non-traditional desert!
Other Tips from Daisy:
If you aren't into the wedding cake flavor…visit this website for a twist on cool watermelon snow cones.
http://www.watermelon.org/watermelon_recipes-kids.asp
Make sure you have enough supplies to cover all of your guests…even the ones that you know will come back for seconds after they get super hot doing the funky chicken out on your dance floor!
Getting Snow Cone Cream to put on top makes this chilled treat even more yummy!

Kimberly Burroughs says:
Having been married in the winter and after reading this article, it made me want a summer wedding!! This is a brilliant idea!!!! I look forward to reading more on Daisy I Do.
Leave a Reply