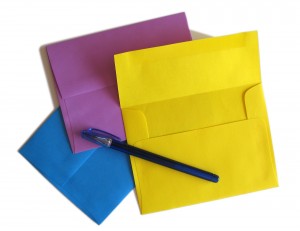 You are the most organized and prepared maid-of-honor in the world. You have perfectly planned every detail of you best friend's bridal shower down to her favorite scented candles. There will be fun games, there will be an amazing slideshow, there will be chicken salad.  Here's one more small thing that your bride will remember in a big way. Thank you cards!
We all know how tedious it can be for some brides to go home after her shower and address, write, stamp, stuff and send out the thank you cards for her shower gifts. Make her life a little easier and buy her a set of thank you cards before the shower. When the guests sign in (her bridal shower guest list in her wedding book) when they walk through the door, have the envelopes stacked neatly near by. Ask the guests to print their addresses on the envelopes as well. It's as simple as that.
At the end of the shower when your BFF is thanking you for all of your hard work and telling you her shower was exactly the way she pictured it…surprise her with the thank you cards, the already addressed (bomb!) envelopes, and (if you want to get super-props) a set of stamps! It is such an easy way to make your bride's life a little easier. And we all know, when planning a wedding anything that makes things a little easier is like lemonade on a hot summer day!

Abby says:
This is such a fab idea. thanks so much for the tip! I am planning a shower for next weekend and I am totally going to do this! Thanks Daisy!
Leave a Reply