Monday, July 21, 2008, filed under
Gifts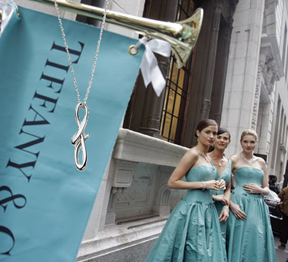 So…you have the most wonderful and helpful bridesmaids around, huh? That's awesome…because some brides end up with a crappy group of little soldiers…be thankful! Let them know you appreciate all of the money and hard work they are putting up to make your day so special. Please…no more picture frames or engraved jewelry boxes!
Give them a personal gift that they can wear on your big day! The Tiffany & Co. | Elsa Peretti® letter pendant in the letter of their first name is the perfect gift! It comes in sterling silver or gold, and is a simple and elegant bridesmaids gift. "Tiffany & Co…That's so expensive," you say? Well, these little treasures are around $150 (in sterling silver), and scream…"You mean the world to me!" Receiving a necklace with their initial will make them feel different from everyone else (unless you have a Julie, Jannell, Jessica, and Jodi), and coordinate perfectly together as they stand up for your "I Do's."
Tiffany & Co. is known for it's class and quality…and will last as long as your friendships. The little blue box says it all.
Reasons to Buy your Girls Bomb-Bridesmaids-Gifts:
1. They spent way too much on a dress that they probably hate…FOR YOU.
2. They have worked their tails off addressing hundreds of invitations…FOR YOU.
3. They have planned, organized, and executed the most beautiful bridal shower you could have asked for.
4. They ran all around the streets in your hometown screaming, "She's getting married!" during your bachelorette party, making you feel like the important princess you are!
5. They will stand with you on the biggest day of your life!

I was searching for Blogs about Addressing Wedding Invitations and found this site. I am interested in your content and appreciate sites like this.
Leave a Reply