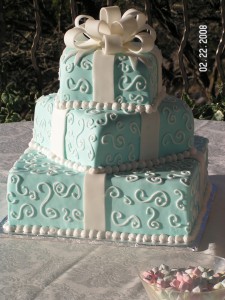 Rosemary Herring, owner of Rosemary's Creations, has been decorating cakes since 1979.  She started her cake-decorating-quest, simply wanting to make more beautiful cakes for her children.  She soon fell in love with the art and continued to take every class she possibly could.  She created her very first wedding cake in 1982.  Her husband was in the Military and she did cakes mostly for friends and special occasions for her husband's unit.  Upon returning home (Texas), Rosemary started her own business and the rest is history.  She does all types of cakes: birthdays, special occasions and of course her passion is wedding cakes.
Rosemary loves the creative side of her art-form!  "Having someone tell me their vision and recreating it in a cake, is my favorite part of my job," said Herring.  Brides can come in and request basically anything and Rosemary turns it into reality.  She has done everything from the Tiffany cake (shown above) to an amazing chocolate western cake (which you can see on her website).  The cake-creator says she has even done some super-risqué cakes (not shown on her website, wink, wink…) for bachelorette parties!
Rosemary has been married to her wonderful hubby for many years now, but that doesn't mean a girl can't dream!  She said if she were to get married again (same hubby, of course!), she would make herself a wedding cake with 3 tiers.  One tier being chocolate with raspberry filling, the middle tier would be white cake with fresh strawberries in the center, and the top layer would be pineapple cake with pineapple buttercream filling.  She then would cover it with whipped icing, and cover the icing in shaved white chocolate.  A very simple cake-topper of yellow roses would add the perfect flare to the top.  For an extra special touch, she says she might use yellow roses to garnish the sides.  Umm…can we say YUMMY!
So, now that your mouth is watering, let's talk about the facts.  For wedding cakes, Rosemary charges by the slice.  The more "extras" such as special fillings, special flavors, and/or special icing change the base rate per slice.  She offers and recommends that you and your man come in for a complimentary cake testing.  To set up a cake testing just call or email her!  Let her know what you have in mind for your cake so she can prepare a sample for you. 
So get on it girls!  Learn more about the cake-master and see her amazing portfolio on her website:

Leave a Reply