Tuesday, July 15, 2008, filed under
Flowers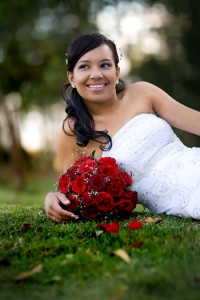 Flowers can be one of the most expensive parts of a wedding.  And unlike you and your hubby's everlasting love, your wedding flowers will not last long after the big day.  That's why Daisy recommends that any bride-on-a-budget does her own flowers!  It's easy if you just spend a little time to think it through…and recruit a ton of help from your ever-so-helpful bridesmaids.
For a simple round bouquet, you can use pretty much any flower and color scheme your little heart desires.  Take fabric samples or pictures of your bridesmaid's' dresses shopping with you, to find colors that compliment your decor. You will want to find an assortment of flower sizes and shapes, to avoid a blah-looking-bouquet. The main flowers in your arrangement should be large-and-in-charge.  And don't be cheap here ladies…make sure you buy plenty (at least eight of each main flower per bouquet).  And if you have extra leftover, they can be used for corsages, boutonnieres, and the throw bouquet. Also buy some greenery, filler flowers, and other small flowers to make your main flowers stand out and to make your bouquets appear more full.
Here are some other supplies you will need: a bouquet holder for each bouquet, a bouquet stand or something to put the bouquet in to hold it while you arrange the flowers, flowers and greens, wire cutters, scissors, floral tape and floral wire, accessories to add to your bouquet like ribbon, lace, tulle or beads, a hot glue gun and glue sticks to attach ribbons and beads or to fix any flowers that may fall apart.
Now let's get down to business.  Start cutting your flower stems off the bushes. Stems should be cut to about six inches or less for an average size round bouquet, if they need to be shorter that can be adjusted.  Next, place your bouquet holder in the stand (on a level surface).  The first flowers you want to put in the arrangement are your large main flowers. Place them along the outer edges of your holder.  Then you take one large focal flower (this should be the most beautiful one of them all), and place it dead center in.  From there, work out from the center. Take four more main flowers and place them around the center flower in a square-shape.  Now fill in around those four flowers with some filler flowers (they should be cut a little shorter). Place the other large-main flowers around the center in any pattern that you dig.  Tweak them to your liking.  Once that is done you can fill in any gaps and empty spaces with your greens and filler flowers until you have your desired appearance and fullness.
Once you are done with your bouquet you can dress it up. Daisy likes a simple satin ribbon laced up the stems with beaded flower-pins holding it together.  But you can use a variety of things to make it your own…ribbon, beads, tulle or lace.
You will want to ask your handy-dandy bridesmaids to help you the night before the wedding to create all the bouquets during your "last-night-away-from-hubby" sleepover.  It will be a lot of fun, and allow you to spend your money on other areas of your wedding…like that margarita machine you have had your eye on. And when things get stressful…don't forget to stop and smell the roses (or Daisies).

Leave a Reply