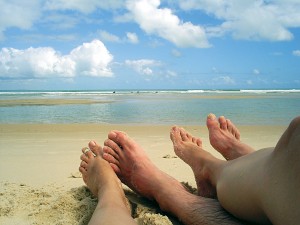 So you have lived with your fiancé for about two years before your actual wedding day, huh? I bet you are in major need of another set of bath towels or an array of new candle sticks…NOT!
Daisy knows what you and your man really need is a vacation! Well, you are in luck! Now your friends and family can buy you a wedding gift you actually want and need…an amazing, breath-taking, forever memorable HONEYMOON! Sign up at one of the many websites that now offer this service, and your guests can donate any amount they want towards your first trip as husband and wife! Some sites even have you fill in fun things you will do with the money, such as a swim with the dolphins or a beach massage for two!
Have a blast, ladies and don't forget to send your pics to Daisy!

Leave a Reply