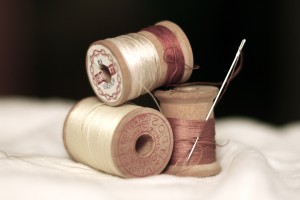 Being the maid of honor means more than some girls realize.  Yes, your dress might be slightly different, you might get to read a special reading during the ceremony, and you get to tell embarassing stories about your best friend during your speech.  Along with all that fun stuff a good maid of honor will brush up on her girl scout handbook and be super prepared for the brides big day.  Pack a bridal emergency kit to bring along to the venue.  This little bag of tricks will get your bride out of any jam that comes her way on her special day!
Bridal Emergency Kit Items:
Sewing Kit, including safety pins and small scissors

Clear nail polish (helpful for stocking runs)

Nail file

Nail polish in the bride's shade

Makeup

Extra stockings

Hairspray

Brush and comb

Bobbypins and hair elastics

Hairdryer

Bounce Sheets for Static-cling

Tissues

Lint brush

Earring backs

Iron/steamer

Baby powder or white chalk (also useful for getting out last-minute spills on a white dress)

Eye-drops (look for redness reducing)

Contact lens solution

Antacid

Mints

Tampons and pads

Headache medicine (bring two different kinds in case one of the bridal party is allergic)

Band-Aids

Mirror

Bottle of water

Moist towelettes

Camera for taking getting dressed candids

List of vendors phone numbers

Wristwatch

A copy of the wedding vows
Believe me…this kit will come is super handy when the bride is freaking out because her bustle broke before the first dance!
Have no fear, a prepared maid of honor will always save the day!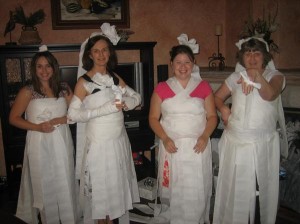 Every little girl dreams about her wedding day.  What time of year it will be in, what her color-scheme will be, and of course, the dress!
Give your girlfriends a chance to make their dreams come true…with the Toilet Paper Bride game at the bridal shower.  Divide the guests into even groups of 3-6.  Pass out a few rolls of TP to each group.  The group then decides which lucky girl will get to dawn the dress and the others turn into instant seamstresses and start to create the masterpiece.  They can tuck, tie, and pinch the toilet paper into place creating their dream wedding gown.  Some creative gals will even go all out and make veils, garters, and wedding rings as well.  
Once you call time (give them about 7 minutes or so) allow your real bride to be walk around from group to group and pick the dress she likes most.  
This game is a great way to get your guests moving around and socializing…and hey…who doesn't want to be turned into a bride for a day?  Have fun!