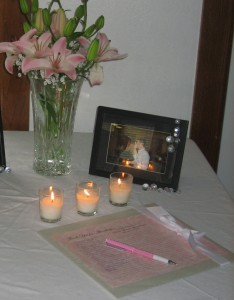 It is the day before your best friend's bridal shower. You have been planning the event for a few months now, and are totally ready and excited for the shower. Your BFF calls you and announces that she has still not purchased her wedding book! She casually asks you, "So…what are my guests going to sign?" Your first reaction is to scorn her and let her know how hard you have worked on her shower to make every detail perfect, and her only duty was to provide you with her wedding-book! Okay, now take a deep breath and put all that anger aside, because Daisy is here with a quick, easy, and cheap solution!
Step one, run to the nearest craft store and purchase a cute patterned piece of paper, in the bridal shower colors (the piece of paper will generally cost about 50 cents).
Step two, get out your handy-dandy laptop and create a document to print on the paper. Something like…"A Bridal Shower Honoring, Daisy, February 23, 2008." Also, include lines for the guests to sign. Print the document on the piece of paper.
Step three, find a piece of cardboard and some tissue paper/wrapping paper that goes with the shower colors. Wrap the piece of cardboard with the tissue paper/wrapping paper.
Step four, attach the guest list paper you just printed to the cardboard using double-sided tape.
Step five, tie a ribbon around the piece of cardboard to add a cute touch and tie everything together.
The guests will just sign this adorable creation you have thrown together, and the bride can attach the paper to her wedding book, when she finally gets around to buying it. Hey, you did your part!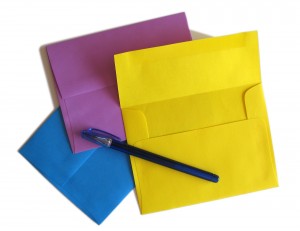 You are the most organized and prepared maid-of-honor in the world. You have perfectly planned every detail of you best friend's bridal shower down to her favorite scented candles. There will be fun games, there will be an amazing slideshow, there will be chicken salad.  Here's one more small thing that your bride will remember in a big way. Thank you cards!
We all know how tedious it can be for some brides to go home after her shower and address, write, stamp, stuff and send out the thank you cards for her shower gifts. Make her life a little easier and buy her a set of thank you cards before the shower. When the guests sign in (her bridal shower guest list in her wedding book) when they walk through the door, have the envelopes stacked neatly near by. Ask the guests to print their addresses on the envelopes as well. It's as simple as that.
At the end of the shower when your BFF is thanking you for all of your hard work and telling you her shower was exactly the way she pictured it…surprise her with the thank you cards, the already addressed (bomb!) envelopes, and (if you want to get super-props) a set of stamps! It is such an easy way to make your bride's life a little easier. And we all know, when planning a wedding anything that makes things a little easier is like lemonade on a hot summer day!

Monday, July 21, 2008, filed under
Gifts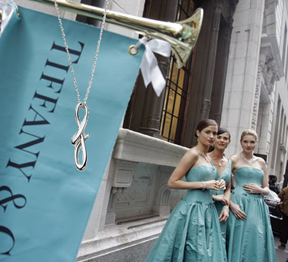 So…you have the most wonderful and helpful bridesmaids around, huh? That's awesome…because some brides end up with a crappy group of little soldiers…be thankful! Let them know you appreciate all of the money and hard work they are putting up to make your day so special. Please…no more picture frames or engraved jewelry boxes!
Give them a personal gift that they can wear on your big day! The Tiffany & Co. | Elsa Peretti® letter pendant in the letter of their first name is the perfect gift! It comes in sterling silver or gold, and is a simple and elegant bridesmaids gift. "Tiffany & Co…That's so expensive," you say? Well, these little treasures are around $150 (in sterling silver), and scream…"You mean the world to me!" Receiving a necklace with their initial will make them feel different from everyone else (unless you have a Julie, Jannell, Jessica, and Jodi), and coordinate perfectly together as they stand up for your "I Do's."
Tiffany & Co. is known for it's class and quality…and will last as long as your friendships. The little blue box says it all.
Reasons to Buy your Girls Bomb-Bridesmaids-Gifts:
1. They spent way too much on a dress that they probably hate…FOR YOU.
2. They have worked their tails off addressing hundreds of invitations…FOR YOU.
3. They have planned, organized, and executed the most beautiful bridal shower you could have asked for.
4. They ran all around the streets in your hometown screaming, "She's getting married!" during your bachelorette party, making you feel like the important princess you are!
5. They will stand with you on the biggest day of your life!

Rosemary Herring, owner of Rosemary's Creations, has been decorating cakes since 1979.  She started her cake-decorating-quest, simply wanting to make more beautiful cakes for her children.  She soon fell in love with the art and continued to take every class she possibly could.  She created her very first wedding cake in 1982.  Her husband was in the Military and she did cakes mostly for friends and special occasions for her husband's unit.  Upon returning home (Texas), Rosemary started her own business and the rest is history.  She does all types of cakes: birthdays, special occasions and of course her passion is wedding cakes.
Rosemary loves the creative side of her art-form!  "Having someone tell me their vision and recreating it in a cake, is my favorite part of my job," said Herring.  Brides can come in and request basically anything and Rosemary turns it into reality.  She has done everything from the Tiffany cake (shown above) to an amazing chocolate western cake (which you can see on her website).  The cake-creator says she has even done some super-risqué cakes (not shown on her website, wink, wink…) for bachelorette parties!
Rosemary has been married to her wonderful hubby for many years now, but that doesn't mean a girl can't dream!  She said if she were to get married again (same hubby, of course!), she would make herself a wedding cake with 3 tiers.  One tier being chocolate with raspberry filling, the middle tier would be white cake with fresh strawberries in the center, and the top layer would be pineapple cake with pineapple buttercream filling.  She then would cover it with whipped icing, and cover the icing in shaved white chocolate.  A very simple cake-topper of yellow roses would add the perfect flare to the top.  For an extra special touch, she says she might use yellow roses to garnish the sides.  Umm…can we say YUMMY!
So, now that your mouth is watering, let's talk about the facts.  For wedding cakes, Rosemary charges by the slice.  The more "extras" such as special fillings, special flavors, and/or special icing change the base rate per slice.  She offers and recommends that you and your man come in for a complimentary cake testing.  To set up a cake testing just call or email her!  Let her know what you have in mind for your cake so she can prepare a sample for you. 
So get on it girls!  Learn more about the cake-master and see her amazing portfolio on her website:

Tuesday, July 15, 2008, filed under
Flowers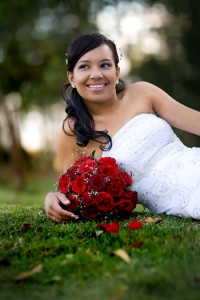 Flowers can be one of the most expensive parts of a wedding.  And unlike you and your hubby's everlasting love, your wedding flowers will not last long after the big day.  That's why Daisy recommends that any bride-on-a-budget does her own flowers!  It's easy if you just spend a little time to think it through…and recruit a ton of help from your ever-so-helpful bridesmaids.
For a simple round bouquet, you can use pretty much any flower and color scheme your little heart desires.  Take fabric samples or pictures of your bridesmaid's' dresses shopping with you, to find colors that compliment your decor. You will want to find an assortment of flower sizes and shapes, to avoid a blah-looking-bouquet. The main flowers in your arrangement should be large-and-in-charge.  And don't be cheap here ladies…make sure you buy plenty (at least eight of each main flower per bouquet).  And if you have extra leftover, they can be used for corsages, boutonnieres, and the throw bouquet. Also buy some greenery, filler flowers, and other small flowers to make your main flowers stand out and to make your bouquets appear more full.
Here are some other supplies you will need: a bouquet holder for each bouquet, a bouquet stand or something to put the bouquet in to hold it while you arrange the flowers, flowers and greens, wire cutters, scissors, floral tape and floral wire, accessories to add to your bouquet like ribbon, lace, tulle or beads, a hot glue gun and glue sticks to attach ribbons and beads or to fix any flowers that may fall apart.
Now let's get down to business.  Start cutting your flower stems off the bushes. Stems should be cut to about six inches or less for an average size round bouquet, if they need to be shorter that can be adjusted.  Next, place your bouquet holder in the stand (on a level surface).  The first flowers you want to put in the arrangement are your large main flowers. Place them along the outer edges of your holder.  Then you take one large focal flower (this should be the most beautiful one of them all), and place it dead center in.  From there, work out from the center. Take four more main flowers and place them around the center flower in a square-shape.  Now fill in around those four flowers with some filler flowers (they should be cut a little shorter). Place the other large-main flowers around the center in any pattern that you dig.  Tweak them to your liking.  Once that is done you can fill in any gaps and empty spaces with your greens and filler flowers until you have your desired appearance and fullness.
Once you are done with your bouquet you can dress it up. Daisy likes a simple satin ribbon laced up the stems with beaded flower-pins holding it together.  But you can use a variety of things to make it your own…ribbon, beads, tulle or lace.
You will want to ask your handy-dandy bridesmaids to help you the night before the wedding to create all the bouquets during your "last-night-away-from-hubby" sleepover.  It will be a lot of fun, and allow you to spend your money on other areas of your wedding…like that margarita machine you have had your eye on. And when things get stressful…don't forget to stop and smell the roses (or Daisies).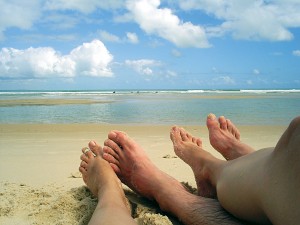 So you have lived with your fiancé for about two years before your actual wedding day, huh? I bet you are in major need of another set of bath towels or an array of new candle sticks…NOT!
Daisy knows what you and your man really need is a vacation! Well, you are in luck! Now your friends and family can buy you a wedding gift you actually want and need…an amazing, breath-taking, forever memorable HONEYMOON! Sign up at one of the many websites that now offer this service, and your guests can donate any amount they want towards your first trip as husband and wife! Some sites even have you fill in fun things you will do with the money, such as a swim with the dolphins or a beach massage for two!
Have a blast, ladies and don't forget to send your pics to Daisy!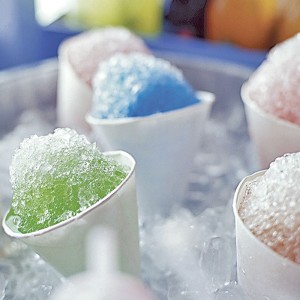 Summer weddings are among some of the most popular. Many brides choose the summer season for their big-day because there is usually a better chance of a rain-free event, gorgeous sunsets, and an overall cheery feeling that only comes from the summer-time. One of the only down-falls that comes from the season is the heat…and as many of us know down in the South, the heat can be truly unbearable.
So here is an idea for all of you summer-wedding-planners. Skip the traditional wedding cake, and serve your guests a cool treat instead…wedding cake snow cones are all the rage…well, in Daisy's book anyway. They taste just like a wedding cake, but are sure to cool down even the hottest of groomsmen. And for those of you brides on a budget, this is actually a cheaper alternative to a big ol' fancy wedding cake.
Love the Idea? Well, lets talk about how to make it snow! There are a couple of different options sure to fit into any brides budget. Snow cone machines can easily be rented (from your local party-supply company) or purchased (check sites like www.craigslist.com and try to find a used machine). The next thing you need is the syrup. If you want to keep as close to traditional as possible, Daisy recommends the "wedding cake" flavor. It can be purchased in a flavor-concentrate (a much more economical way to serve a high number of guests) or many companies offer ready-to-use syrups. Next, you will need something to serve your delicious frozen treats in. Using small clear plastic cups from a bulk-store would be the cheapest way to go about this…but there are a million other options as well. Ordering custom cups with the couples name on them would give your wedding a very personal feel. Another idea is to use cute plastic martini glasses that coordinate with your wedding colors. Get creative with this girls…your guests will be excited about their cool non-traditional desert!
Other Tips from Daisy:
If you aren't into the wedding cake flavor…visit this website for a twist on cool watermelon snow cones.
http://www.watermelon.org/watermelon_recipes-kids.asp
Make sure you have enough supplies to cover all of your guests…even the ones that you know will come back for seconds after they get super hot doing the funky chicken out on your dance floor!
Getting Snow Cone Cream to put on top makes this chilled treat even more yummy!