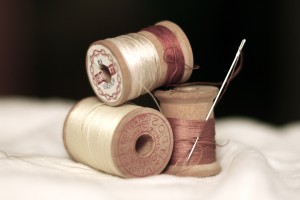 Being the maid of honor means more than some girls realize.  Yes, your dress might be slightly different, you might get to read a special reading during the ceremony, and you get to tell embarassing stories about your best friend during your speech.  Along with all that fun stuff a good maid of honor will brush up on her girl scout handbook and be super prepared for the brides big day.  Pack a bridal emergency kit to bring along to the venue.  This little bag of tricks will get your bride out of any jam that comes her way on her special day!
Bridal Emergency Kit Items:
Sewing Kit, including safety pins and small scissors

Clear nail polish (helpful for stocking runs)

Nail file

Nail polish in the bride's shade

Makeup

Extra stockings

Hairspray

Brush and comb

Bobbypins and hair elastics

Hairdryer

Bounce Sheets for Static-cling

Tissues

Lint brush

Earring backs

Iron/steamer

Baby powder or white chalk (also useful for getting out last-minute spills on a white dress)

Eye-drops (look for redness reducing)

Contact lens solution

Antacid

Mints

Tampons and pads

Headache medicine (bring two different kinds in case one of the bridal party is allergic)

Band-Aids

Mirror

Bottle of water

Moist towelettes

Camera for taking getting dressed candids

List of vendors phone numbers

Wristwatch

A copy of the wedding vows
Believe me…this kit will come is super handy when the bride is freaking out because her bustle broke before the first dance!
Have no fear, a prepared maid of honor will always save the day!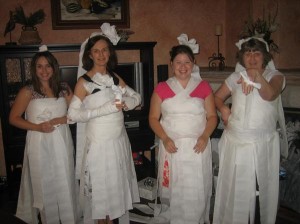 Every little girl dreams about her wedding day.  What time of year it will be in, what her color-scheme will be, and of course, the dress!
Give your girlfriends a chance to make their dreams come true…with the Toilet Paper Bride game at the bridal shower.  Divide the guests into even groups of 3-6.  Pass out a few rolls of TP to each group.  The group then decides which lucky girl will get to dawn the dress and the others turn into instant seamstresses and start to create the masterpiece.  They can tuck, tie, and pinch the toilet paper into place creating their dream wedding gown.  Some creative gals will even go all out and make veils, garters, and wedding rings as well.  
Once you call time (give them about 7 minutes or so) allow your real bride to be walk around from group to group and pick the dress she likes most.  
This game is a great way to get your guests moving around and socializing…and hey…who doesn't want to be turned into a bride for a day?  Have fun!

Have a basket of clothespins by the sign in book at the shower or have one of the bridesmaids give one clothespin to each guest on their way in the door. Explain the rules to them as they get their game piece…and watch the magic unfold.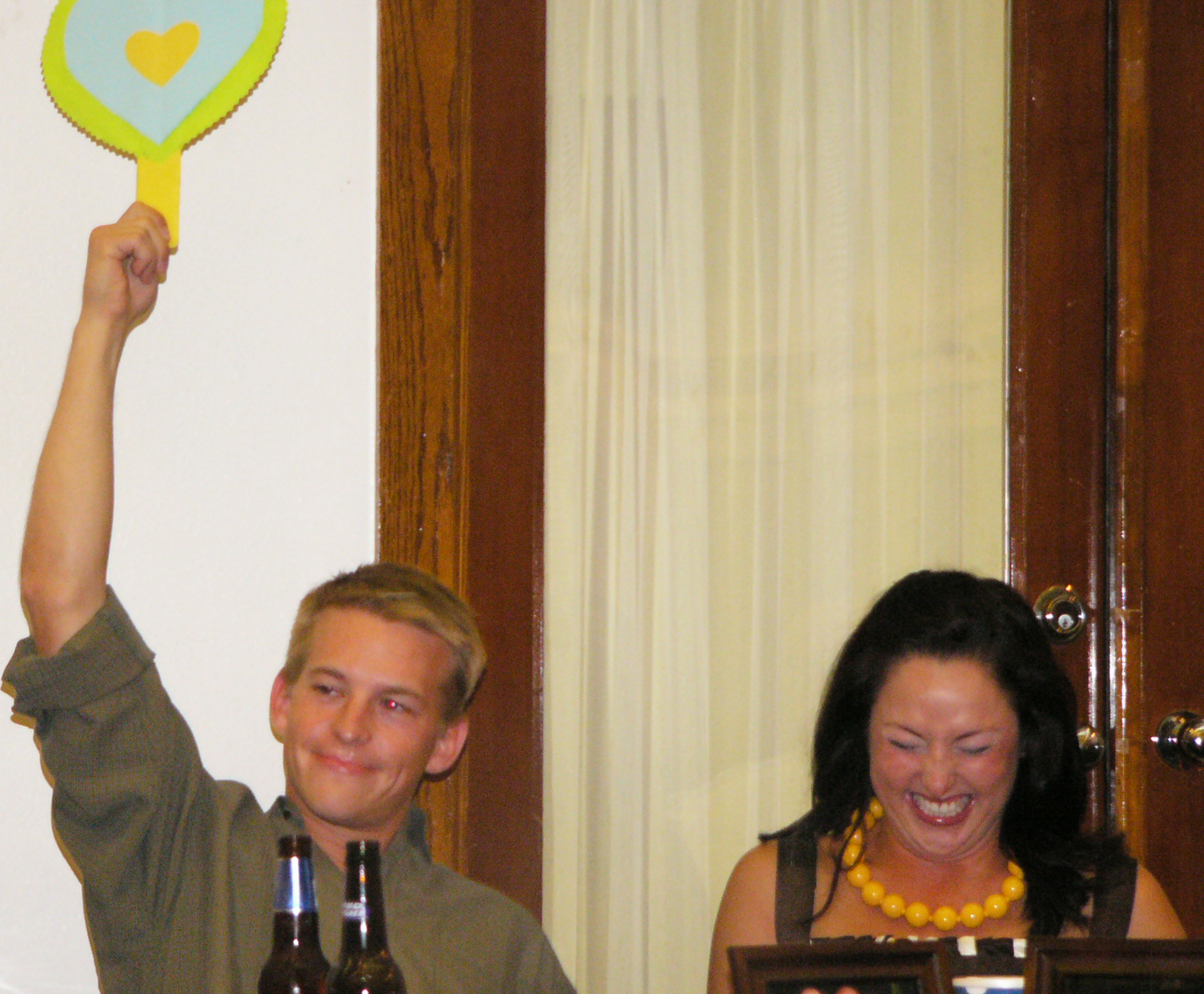 When a couple gets engaged, friends and family expect them to know each inside and out. Put your bride and groom friends to the test, and play a modern version of the Newlywed game at the engagement party!
Here's how to make a homemade newlywed game:

• Put your bride and groom up against another newlywed couple or a couple that has spent many years together. Daisy threw a joint-engagement party once for friends who got engaged a week apart from one another, and paired both couples up against an older couple who had been married for 27 years. The game was super fun with three couples.
• Decide how many rounds you want to include in the game. Daisy recommends three rounds (about 5-10 minutes each):
o Multiple choice round- in this round the host will give each couple a question and a few answers to choose from.
• For example: Groom- what does your fiancé do first things in the morning?
• A: brush her teeth
• B. turn on the coffee pot
• C. go to the bathroom
• D. roll-over on top of you
• If the groom gets the question right, they get a point. If they get it wrong, they get shamed by grandma.
o Matching-answers round- in this round the host asks the couple a question about their relationship.
• For example: Where was your first date?
• The couple then writes down an answer (buy spirals or make an answer-book for them to write down their answers). The couple will then hold up their answers. If they match, they get a one-couple-point. If they get it wrong, boo the living daylights out of them.
o "That's My Mate" round- this round includes all couples in the game. Read interesting and obscure facts about the players.
• For example: This person only eats cold tomatoes. Hot tomatoes are unacceptable.
• The partner of the person who only likes cold tomatoes should raise their hand and say,"that's my mate!" If they get it right, they get a one-couple-point. If they get it wrong, embarrass them in front of the crowd.
Whatever couple has the most points at the end, knows each other the best! In turn, they have a 100% chance of living happily ever after!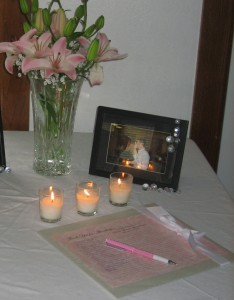 It is the day before your best friend's bridal shower. You have been planning the event for a few months now, and are totally ready and excited for the shower. Your BFF calls you and announces that she has still not purchased her wedding book! She casually asks you, "So…what are my guests going to sign?" Your first reaction is to scorn her and let her know how hard you have worked on her shower to make every detail perfect, and her only duty was to provide you with her wedding-book! Okay, now take a deep breath and put all that anger aside, because Daisy is here with a quick, easy, and cheap solution!
Step one, run to the nearest craft store and purchase a cute patterned piece of paper, in the bridal shower colors (the piece of paper will generally cost about 50 cents).
Step two, get out your handy-dandy laptop and create a document to print on the paper. Something like…"A Bridal Shower Honoring, Daisy, February 23, 2008." Also, include lines for the guests to sign. Print the document on the piece of paper.
Step three, find a piece of cardboard and some tissue paper/wrapping paper that goes with the shower colors. Wrap the piece of cardboard with the tissue paper/wrapping paper.
Step four, attach the guest list paper you just printed to the cardboard using double-sided tape.
Step five, tie a ribbon around the piece of cardboard to add a cute touch and tie everything together.
The guests will just sign this adorable creation you have thrown together, and the bride can attach the paper to her wedding book, when she finally gets around to buying it. Hey, you did your part!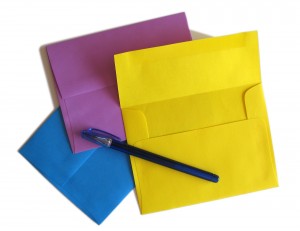 You are the most organized and prepared maid-of-honor in the world. You have perfectly planned every detail of you best friend's bridal shower down to her favorite scented candles. There will be fun games, there will be an amazing slideshow, there will be chicken salad.  Here's one more small thing that your bride will remember in a big way. Thank you cards!
We all know how tedious it can be for some brides to go home after her shower and address, write, stamp, stuff and send out the thank you cards for her shower gifts. Make her life a little easier and buy her a set of thank you cards before the shower. When the guests sign in (her bridal shower guest list in her wedding book) when they walk through the door, have the envelopes stacked neatly near by. Ask the guests to print their addresses on the envelopes as well. It's as simple as that.
At the end of the shower when your BFF is thanking you for all of your hard work and telling you her shower was exactly the way she pictured it…surprise her with the thank you cards, the already addressed (bomb!) envelopes, and (if you want to get super-props) a set of stamps! It is such an easy way to make your bride's life a little easier. And we all know, when planning a wedding anything that makes things a little easier is like lemonade on a hot summer day!