Wedding cakes are pricey…we have already determined that! So why not do it yourself. This idea is perfect for a casual backyard or beach wedding!
Buy some cupcake pans with a unique design. We love the rose design. Pick your favorite kind of cake and bake it up. Add some powdered sugar or lemon frosting to the top for a beautiful touch. Stack the cupcakes on a gorgeous tiered cake stand, and add decor if you want some more flare.
This is a beautiful, easy, and delicious way to create a one of a kind wedding cake masterpiece!

Rosemary Herring, owner of Rosemary's Creations, has been decorating cakes since 1979.  She started her cake-decorating-quest, simply wanting to make more beautiful cakes for her children.  She soon fell in love with the art and continued to take every class she possibly could.  She created her very first wedding cake in 1982.  Her husband was in the Military and she did cakes mostly for friends and special occasions for her husband's unit.  Upon returning home (Texas), Rosemary started her own business and the rest is history.  She does all types of cakes: birthdays, special occasions and of course her passion is wedding cakes.
Rosemary loves the creative side of her art-form!  "Having someone tell me their vision and recreating it in a cake, is my favorite part of my job," said Herring.  Brides can come in and request basically anything and Rosemary turns it into reality.  She has done everything from the Tiffany cake (shown above) to an amazing chocolate western cake (which you can see on her website).  The cake-creator says she has even done some super-risqué cakes (not shown on her website, wink, wink…) for bachelorette parties!
Rosemary has been married to her wonderful hubby for many years now, but that doesn't mean a girl can't dream!  She said if she were to get married again (same hubby, of course!), she would make herself a wedding cake with 3 tiers.  One tier being chocolate with raspberry filling, the middle tier would be white cake with fresh strawberries in the center, and the top layer would be pineapple cake with pineapple buttercream filling.  She then would cover it with whipped icing, and cover the icing in shaved white chocolate.  A very simple cake-topper of yellow roses would add the perfect flare to the top.  For an extra special touch, she says she might use yellow roses to garnish the sides.  Umm…can we say YUMMY!
So, now that your mouth is watering, let's talk about the facts.  For wedding cakes, Rosemary charges by the slice.  The more "extras" such as special fillings, special flavors, and/or special icing change the base rate per slice.  She offers and recommends that you and your man come in for a complimentary cake testing.  To set up a cake testing just call or email her!  Let her know what you have in mind for your cake so she can prepare a sample for you. 
So get on it girls!  Learn more about the cake-master and see her amazing portfolio on her website: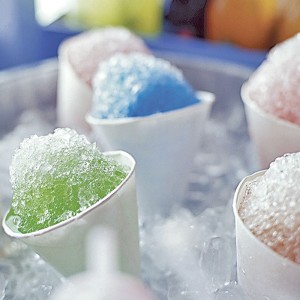 Summer weddings are among some of the most popular. Many brides choose the summer season for their big-day because there is usually a better chance of a rain-free event, gorgeous sunsets, and an overall cheery feeling that only comes from the summer-time. One of the only down-falls that comes from the season is the heat…and as many of us know down in the South, the heat can be truly unbearable.
So here is an idea for all of you summer-wedding-planners. Skip the traditional wedding cake, and serve your guests a cool treat instead…wedding cake snow cones are all the rage…well, in Daisy's book anyway. They taste just like a wedding cake, but are sure to cool down even the hottest of groomsmen. And for those of you brides on a budget, this is actually a cheaper alternative to a big ol' fancy wedding cake.
Love the Idea? Well, lets talk about how to make it snow! There are a couple of different options sure to fit into any brides budget. Snow cone machines can easily be rented (from your local party-supply company) or purchased (check sites like www.craigslist.com and try to find a used machine). The next thing you need is the syrup. If you want to keep as close to traditional as possible, Daisy recommends the "wedding cake" flavor. It can be purchased in a flavor-concentrate (a much more economical way to serve a high number of guests) or many companies offer ready-to-use syrups. Next, you will need something to serve your delicious frozen treats in. Using small clear plastic cups from a bulk-store would be the cheapest way to go about this…but there are a million other options as well. Ordering custom cups with the couples name on them would give your wedding a very personal feel. Another idea is to use cute plastic martini glasses that coordinate with your wedding colors. Get creative with this girls…your guests will be excited about their cool non-traditional desert!
Other Tips from Daisy:
If you aren't into the wedding cake flavor…visit this website for a twist on cool watermelon snow cones.
http://www.watermelon.org/watermelon_recipes-kids.asp
Make sure you have enough supplies to cover all of your guests…even the ones that you know will come back for seconds after they get super hot doing the funky chicken out on your dance floor!
Getting Snow Cone Cream to put on top makes this chilled treat even more yummy!